NBD-86L108 Ultra-low Temperature Freezer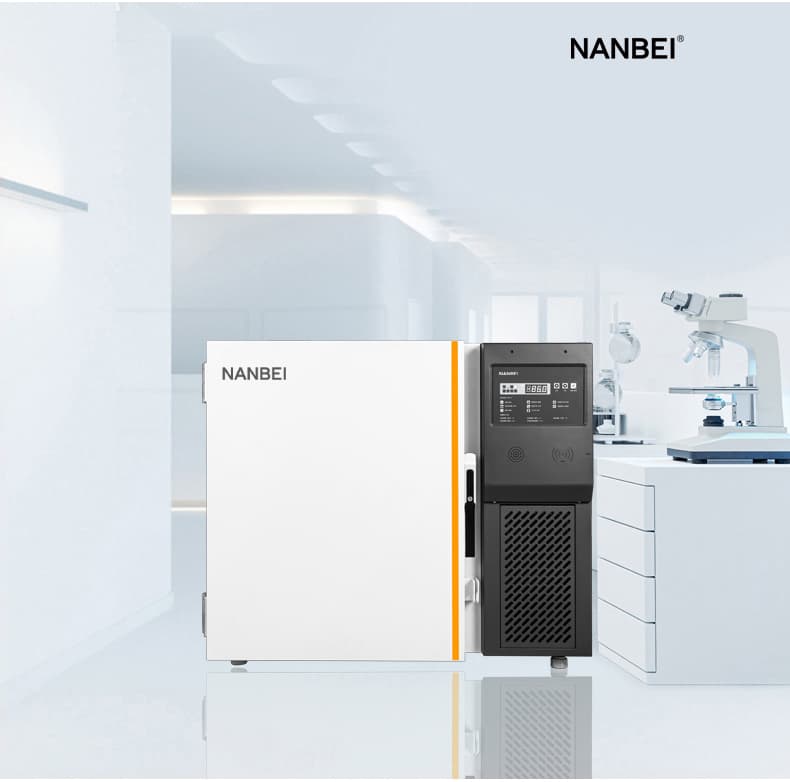 Features
Components
The compressor and fan are using brand products. Lifespan increase up to 20%.
Smart Design, Super sample storage
9,000 vials (2ml) storage.
Multifunction Alarms
Include high, low temperature, sensor error, power failure, high ambient, door ajar ,door open alarm, low battery alarm.
Good Temperature Uniformity
Good temperature uniformity greatly reduce risk of sample degradation caused by temperature fluctuation.
Fast Cabinet Pull Down
Usually takes an average of three hours to reach -81℃ at 25℃ ambient.The faster pull down,the safer for the samples
Forming Technology
Forming agent can provide the high density cabinet , the Space utilization increase 10%.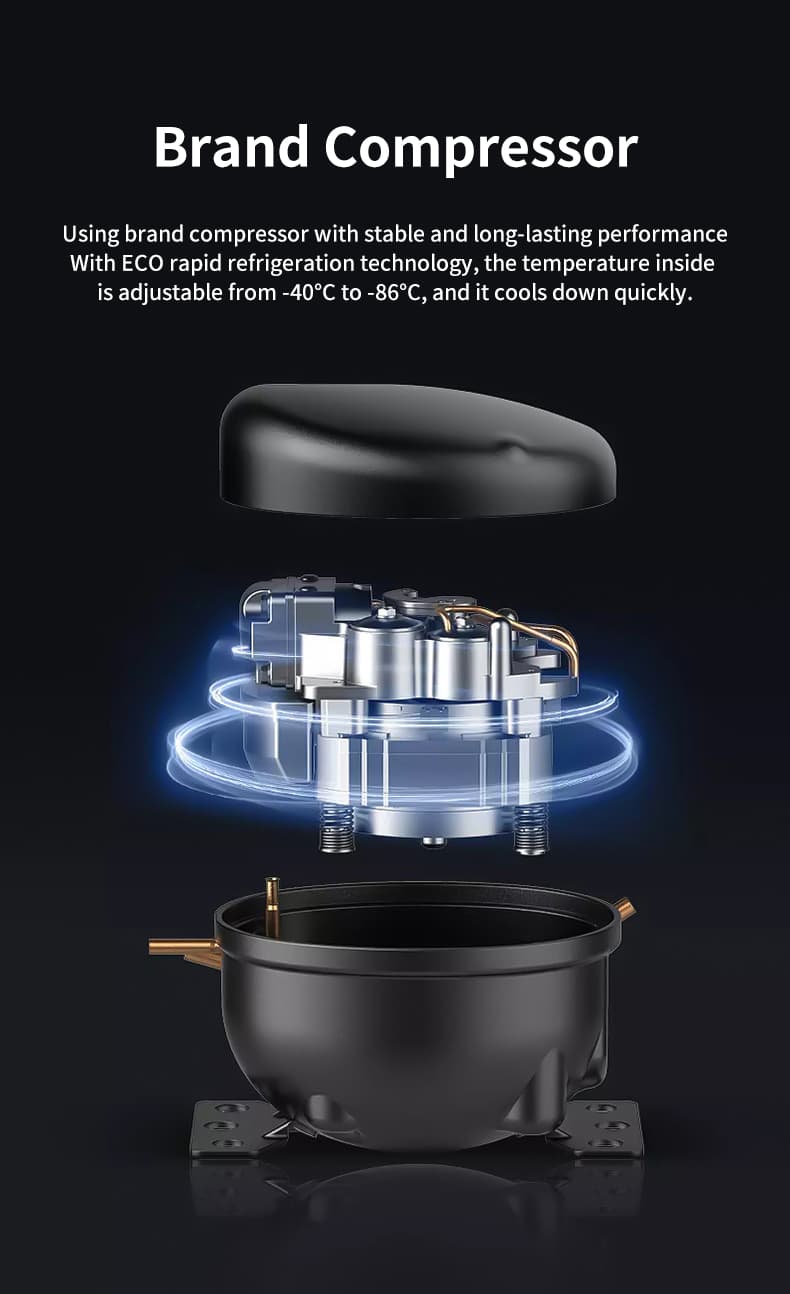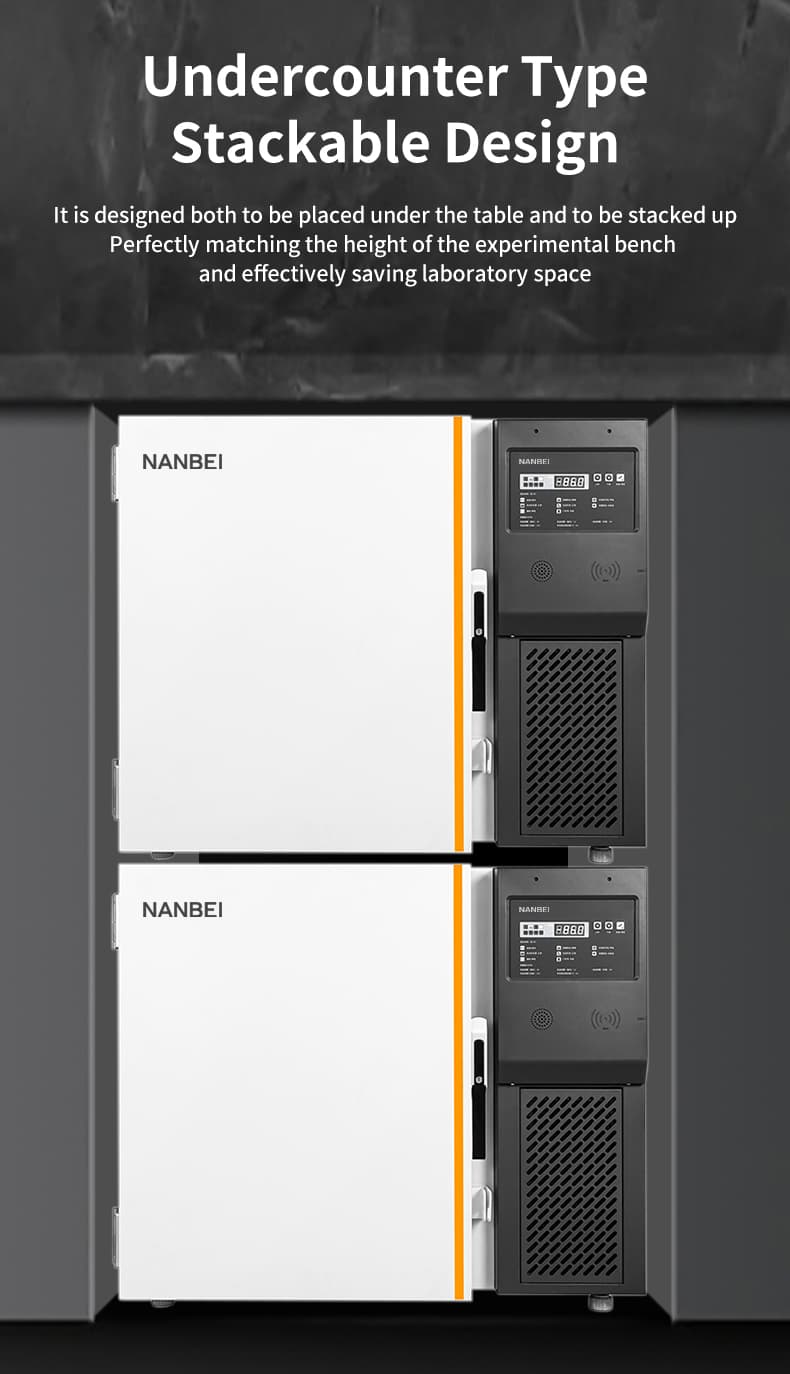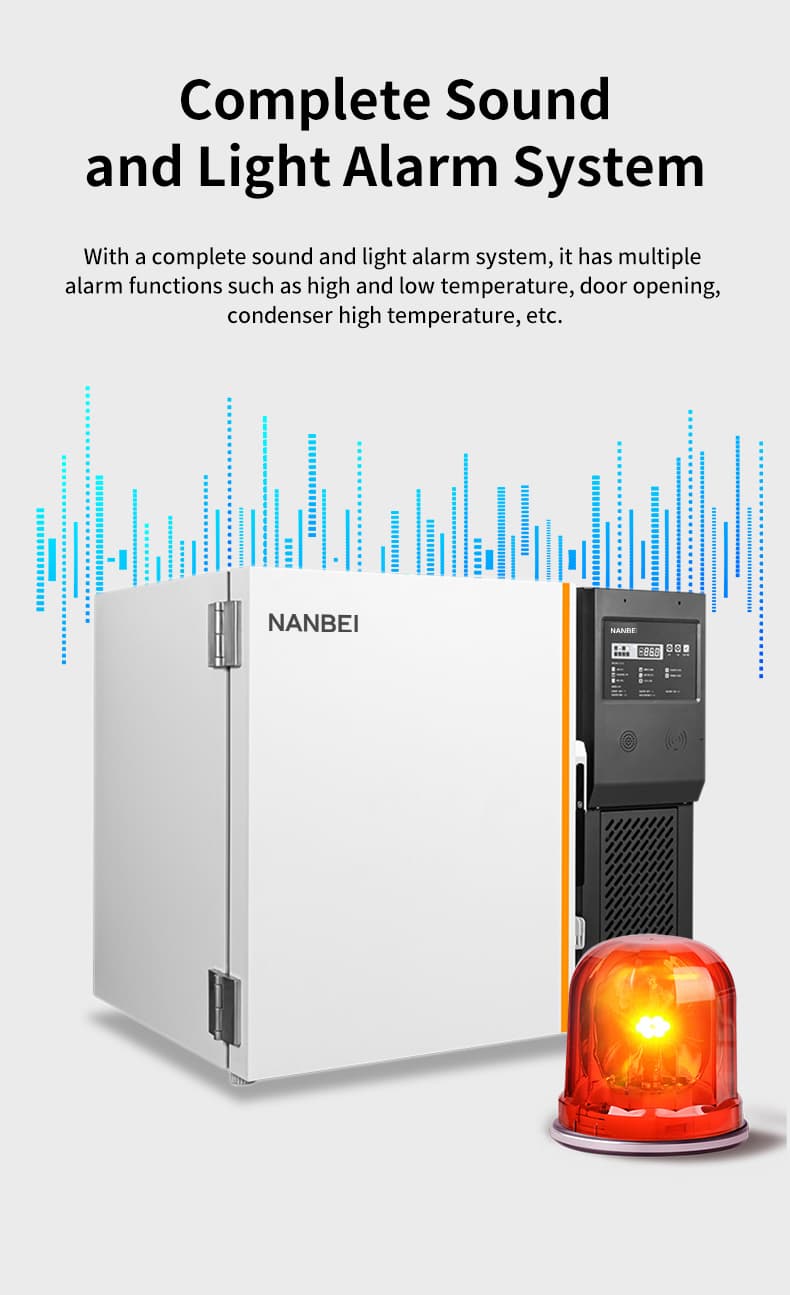 Specification
NBD-86L108

Storage Volume(L)

108

Climate Class

N

Temperature Range(°C)

-40~-86

Cooling System

Auto-cascade

Cooling Type

Direct cooling

Voltage/Frequency(V/Hz)

220~240V/50Hz

Voltage/Frequency(V/Hz)

220~240V/60Hz

Voltage/Frequency(V/Hz)

110V/60Hz

Cabinet Type

Upright

Defrost Mode

Manual

Interior Dimensions

(mm)(wxdxh)

440*435*590

Product Dimensions

(mm)(wxdxh)

955*675*815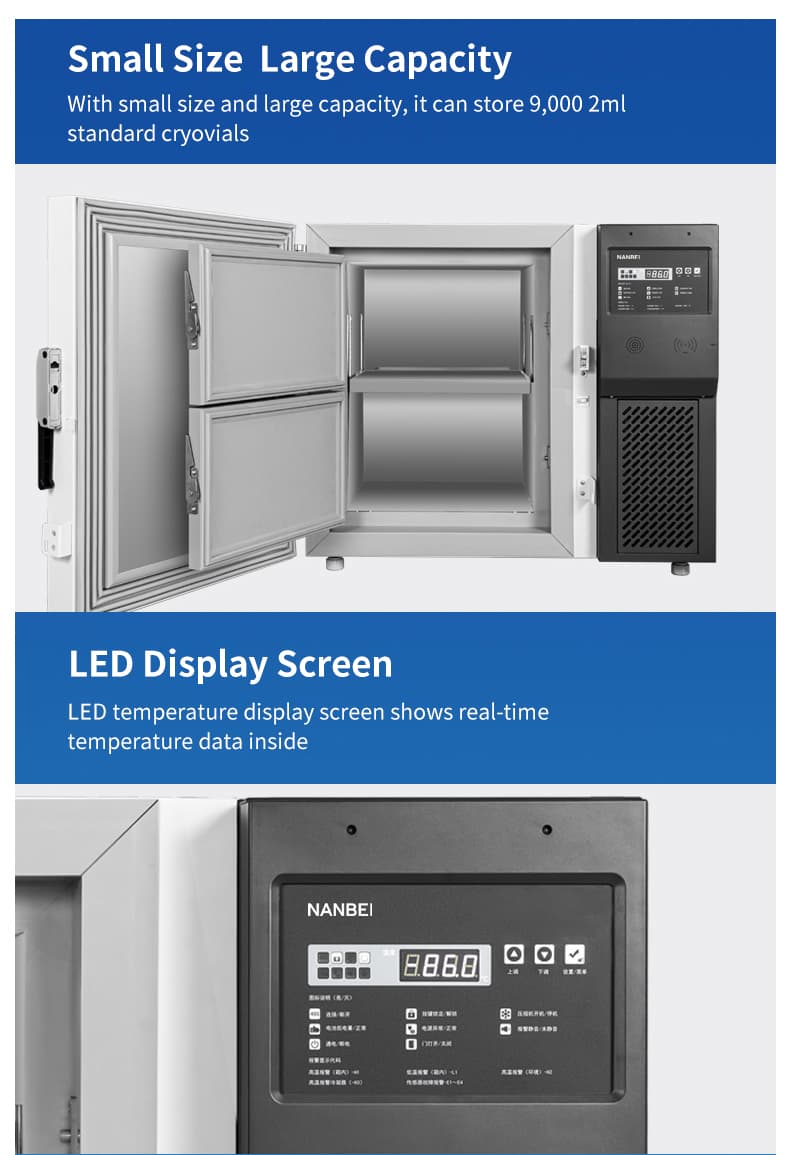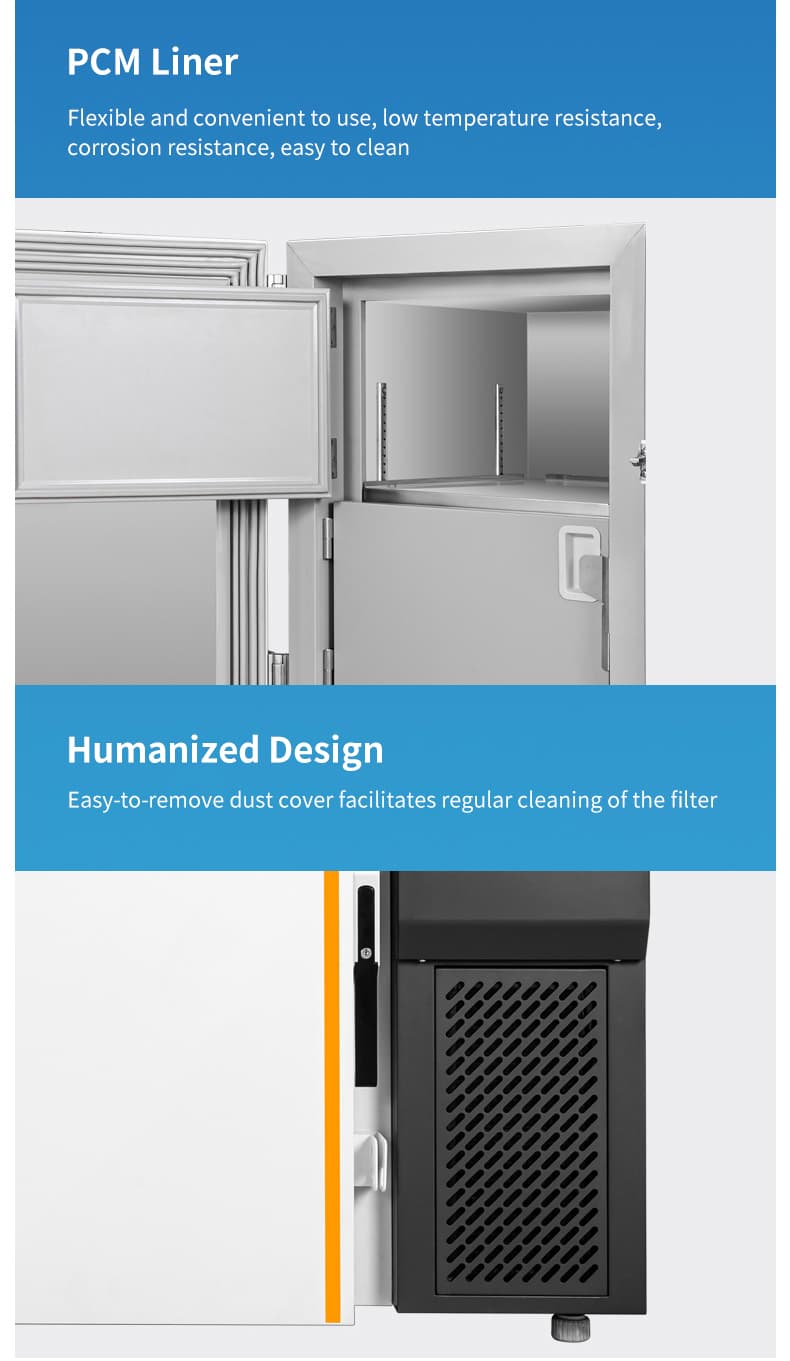 Model selection

Item

Model No.

NBD-86L568

NBD-86L568T

NBD-86L718

NBD-86L718T

NBD-86L838

NB-86L838T

Technical Data

Cabinet Type

Upright

Upright

Upright

Upright

Upright

Upright

Climate Class

N

N

N

N

N

N

Cooling Type

Direct cooling

Direct cooling

Direct cooling

Direct cooling

Direct cooling

Direct cooling

Defrost

Manual

Manual

Manual

Manual

Manual

Manual

Cooling System

Twin Cooling

Twin Cooling

Twin Cooling

Twin Cooling

Twin Cooling

Twin Cooling

Refrigerant

Mixed refrigerant

Mixed refrigerant

Mixed refrigerant

Mixed refrigerant

Mixed refrigerant

Mixed refrigerant

Total Storage Volume(L)

568

568

718

718

838

838

2ml Cryo Tube Qty

40000

40000

50000

50000

60000

60000

External Material

High quality

coated steel

High quality

coated steel

High quality

coated steel

High quality

coated steel

High quality

coated steel

High quality

coated steel

Inner Material

Stainless steel

Stainless steel

Stainless steel

Stainless steel

Stainless steel

Stainless steel

Control

Controller

Microprocessor

Microprocessor

Microprocessor

Microprocessor

Microprocessor

Microprocessor

Display

LED

Touch Screen

LED

Touch Screen

LED

Touch Screen

Temperature Accuracy(℃)

0.1

0.1

0.1

0.1

0.1

0.1

Temperature Range

-40 ~ -86℃

-40 ~ -86℃

-40 ~ -86℃

-40 ~ -86℃

-40 ~ -86℃

-40 ~ -86℃

Product Dimensions

(mm)(wxdxh)

885*995*1980

885*995*1980

1030*995*1980

1030*995*1980

1175*995*1980

1175*995*1980

Dimensions

Interior Dimensions

(mm)(wxdxh)

595*720*1310

595*720*1310

740*720*1310

740*720*1310

885*720*1310

885*720*1310

Electrical Data

Power Supply

110~240V /50 ,60HZ

110~240V /50 ,60HZ

110~240V /50 ,60HZ

110~240V /50 ,60HZ

110~240V /50 ,60HZ

110~240V /50 ,60HZ

Functions

High Temperature Alarm

Y

Y

Y

Y

Y

Y

Low Temperature Alarm

Y

Y

Y

Y

Y

Y

Door Ajar

Y

Y

Y

Y

Y

Y

Power Failure Alarm

Y

Y

Y

Y

Y

Y

High condenser temperature alarm

Y

Y

Y

Y

Y

Y

High ambient Temperature Alarm

Y

Y

Y

Y

Y

Y

Low Battery

Y

Y

Y

Y

Y

Y

Sensor Failure alarm

Y

Y

Y

Y

Y

Y

USB Interface

Y

Y

Y

Y

Y

Y

Door Heating

Y

Y

Y

Y

Y

Y

Porthole

Y

Y

Y

Y

Y

Y

Universal Wheel

Y

Y

Y

Y

Y

Y

Caster

Y

Y

Y

Y

Y

Y
Item

Model No.

NBD-86L458

NBD-86L458T

Technical Data

Cabinet Type

Upright

Upright

Climate Class

N

N

Cooling Type

Direct cooling

Direct cooling

Defrost

Manual

Manual

Refrigerant

Mixed refrigerant

Mixed refrigerant

Total Storage Volume(L)

458

458

2ml Cryo Tube Qty

32000

32000

External Material

High quality coated steel

High quality coated steel

Inner Material

Stainless steel

Stainless steel

Control

Controller

Microprocessor

Microprocessor

Display

LED

Touch Screen

Temperature Accuracy(℃)

0.1

0.1

Temperature Range

-40 ~ -86℃

-40 ~ -86℃

Dimensions

Product Dimensions

(mm)(wxdxh)

885*855*1990

885*855*1990

Interior Dimensions

(mm)(wxdxh)

595*580*1310

595*580*1310

Electrical Data

Power Supply

110~240V /50,60HZ

110~240V /50,60HZ

Functions

High Temperature Alarm

Y

Y

Low Temperature Alarm

Y

Y

Door Ajar

Y

Y

Power Failure Alarm

Y

Y

High Condenser Temperature Alarm

Y

Y

High Ambient Temperature Alarm

Y

Y

Low Battery

Y

Y

Sensor Failure Alarm

Y

Y

USB Interface

Y

Y

Door Heating

Y

Y

Porthole

Y

Y

Universal Wheel

Y

Y

Caster

Y

Y