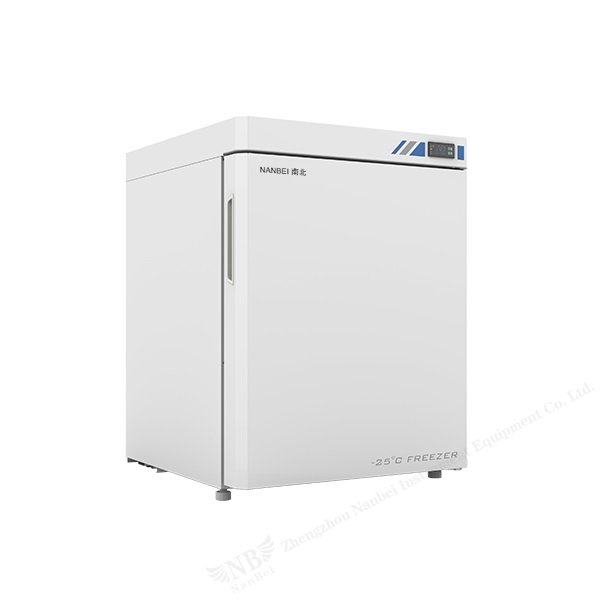 90L -25℃ Medical Freezer
Brand:NANBEI
Model:NBYL-90L -25℃ Medical Freezer
Application:Laboratory,hospital,storage of blood vaccines and medical drugs
-10°C ~-25°C Low-temperature Freezer Medical Freezer DW-YL90


Overview:
NANBEI -10°C ~-25°C low temperature freezer DW-YL90 is a high quality laboratory / medical freezer with stable performance. This mini freezer is designed in specific volume for easy storage and placed on desktop and under counter. The small freezer is equipped with polyurethane foam door enabling perfect thermal insulation effects. And it provides multiple audible and visible alarm system to ensure more safe storage. The high-precision compromised temperature control system allows you to set and monitor the temperature in the cabinet.
Brand New Appearance with High-quality Product
The polyurethane foam door of this low temperature freezer has great thermal insulation performance and has the ability to ensure constant temperature in the cabinet.

Multiple Alarms Ensure Safety of Storage:
The low temp freezer has multiple audible & visual alarm functions, such as high temperature/low temperature alarm, door opening/closing alarm (optional), sensor failure alarm, power outage alarm, etc. and can guarantee security of samples in a comprehensive way.

High-precision Temperature Control:
The high-precision computerized temperature control system ensures an adjustable temperature within a range from -10 to -25℃ inside the cabinet. And the high-definition digital temperature display can display the temperature precisely in 0.1 ℃.


Details:
Model

capacity

Temp.Range(℃)

External size
(W*D*H)mm
Inside size(like
(W*D*H)mm

Input power

Weight
(Nt/Gt)

NB-YL90

90 Liters

-10~-25℃

760*760*940

520*500*610

367W

90/96Kg

Voltage

220V,50Hz /110V,60Hz / 220V,60Hz
Features:
The high-definition digital temperature display can realize a temperature display precision of 0.1℃ and is convenient for observation;
The compressor supplied by a famous brand and high-efficiency refrigerant R600a can reduce energy consumption to a large extent;
The high temperature/low temperature alarm, door opening alarm (optional), sensor failure alarm and power outage alarm can ensure security of samples comprehensively;
The invisible door handle can prevent damage during transportation and save space; The four drawers are convenient for separate storage of different types of things and can prevent cross influence among various things.

Scope of Application:
Suitable for freezing of ice bars and storage of various things needing refrigerated storage such as blood plasma, reagent, etc. Suitable for use in hospitals, clinics, health and disease prevention systems, blood banks, laboratories in colleges & universities, the frozen food industry and catering industry, etc.